Submitting a proposal:
Each funding opportunity (i.e. RFP) on Halo accepts a single, standardized proposal that requires the minimum amount of information for a sponsor to determine next steps. This is intended to save researchers time. The entire proposal is around a page and takes most researchers less than an hour to complete. The questions are:
What is your research hypothesis? (500 characters max)
What is the rationale? (500 characters max)
How has the hypothesis been validated to date? (optional) (700 characters max)
What is your research plan? (700 characters max)
Add up to five of your most relevant publications, grants, or patents.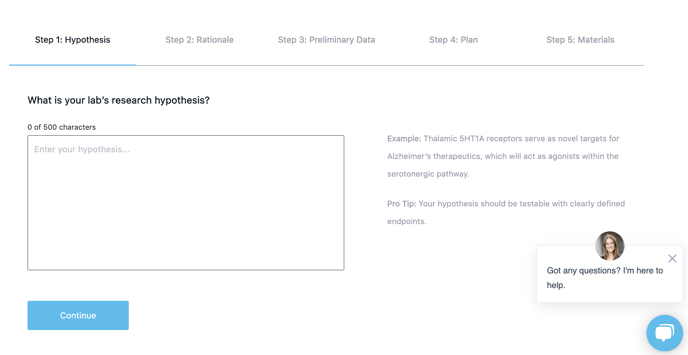 Review process:
Halo is not involved in the review process and every proposal is sent directly to the sponsor. Sponsors review proposals on a rolling basis and 75% of scientists submit their proposals within 3 days of the deadline, which means sponsors have less time to review these proposals than those submitted earlier. For this reason, we recommend submitting your proposal as soon as possible.

Sponsors will either decline your proposal or advance it to the next stage for further consideration. The stages are Advanced, Finalist and Awarded. You will receive an email notification if your proposal is advanced to the next stage and can check the status of your proposal at anytime in Account Settings > My Proposals. You will hear back from the sponsor within 10 weeks from the time the proposal is submitted, but most likely sooner.


If your proposal is declined:
The sponsor will provide some justification for declining the proposal; e.g. being too early or not meeting requirements. The amount of feedback varies and depends on how many proposals the sponsor has received. Keep in mind that this is not a reflection on your proposal itself but rather its fit for the sponsor's unique needs as a business. For this reason, you will also have the option to make your proposal available to other sponsors on Halo interested in the same research area.
In addition, even if your proposal is declined, sponsors may still choose to follow your profile on Halo so they can stay up-to-date on your progress or your research generally.


If your proposal is advanced:
The sponsor may reach out and ask clarifying questions about your proposal. You should not include any confidential information in your response. If answering the question would require that you reveal confidential information, then inform the sponsor. If NDAs are necessary at this point or the sponsor is requesting a more formal proposal with budgets and timelines, it's best to take the conversation off of Halo and loop in your tech transfer or corporate relations office.